Fantastic Cape Town Tours
Enjoy Cape Town's Best Highlights
Guided Cape Town Tours throughout the City, Cape Peninsula, Winelands and Southern Cape. We are proud to offer you a wide selection of trips.
- Click here - to select a Cape Town Tour.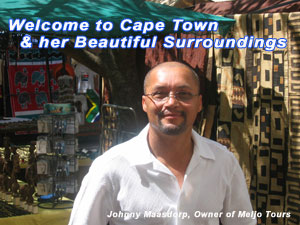 A good Cape Town Tour know-how...
We've been touring people in & around Cape Town for over 12 years.... and it's safe to say we know our Cape Town Tours. Join us and discover why Cape Town is truly one of the most beautiful cities in the world.
Experience and Certified...
All your Cape Town Tours are done by certified South African tour guides. And all vehicles are professionally maintained and equipped for enjoying your holiday trip in comfort and style.
Great selection of Cape Town Tours...
Every Cape Town Tour has a great number of highlights, a friendly guide and a personal touch. Each tour can be tailored to your needs... any pick-up (and drop off) point can be arranged in and around Cape Town.
Recommended by many...
Come and enjoy your Guided Cape Town Tours, you'll soon discover why we are so highly recommended.. Read testimonials about our Cape Town Tours

See you soon in a Sunny Cape Town,
Johnny Maasdorp